Cliffs TestPrep TOEFL CBT

by
The Cliffs TestPrep series offers full-length practice exams that simulate the real tests; proven test-taking strategies to increase your chances at doing well; and thorough review exercises to help fill in any knowledge gaps.
CliffsTestPrep TOEFL CBT can help you improve your scores on the Test of English as a Foreign Language (TOEFL) Computer-Based Test (CBT). Written by an expert in the field of teaching English as a Second Language (ESL), the guide provides you with strategies, techniques, and materials that have proven successful over many years. Inside, you'll find:
Six full-length practice tests
Sample TOEFL test questions, and strategies for answering each kind of question
Complete analyses of each part of the test, and techniques for developing a plan of attack for each part
Two audio CDs containing listening samples for the practice tests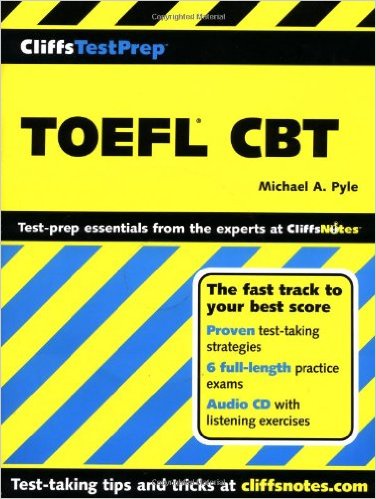 This book will help you understand the types of questions that will test your listening, reading, and writing skills. It will also help your understanding of the complicated structure of the English language. As you work your way through the book, you'll hone your knowledge of subjects such as
Passive voice; comparisons and comparatives; and idioms and idiomatic expressions
Nouns, verb forms, infinitives, gerunds, and prepositions
Adverb and adjective clauses, as well as subject-verb agreement
Vocabulary and determining the mean of words through prefixes, suffixes, and context
Expressing yourself clearly through writing thoughtful essays
With guidance from the CliffsTestPrep series, you'll feel at home in any standardized-test environment! (For additional help, be sure to visit the Test Prep Think Tank for free online resources.)
From the Back Cover
CliffsTestPrepTMThe inside tips and tricks you need to score big
When it come to pinpointing the stuff you really need to know, nobody does it better than CliffsNotes. This fast, efficient test-prep guide delivers a complete program to help boost your score on the Test of English as a Foreign Language, including:
Expert test-taking strategies
Focused reviews and exercises
Realistic full-length practice exams
Comprehensive exam overview
Action plan for effective preparation
Accurate self-assessment tests
With complete coverage of each TOEFL test section — Listening Comprehension, Structure and Written Expression, and Reading Comprehension — a thorough review of English language structure, and an audio CD to help improve your understanding of spoken English, this guide is all you need to score your highestVisit Test Prep ThinkTank
@cliffsnotes.com
Free test samples and schedules
Free test-taking tips and tricks
Free info on other test resources
Free CliffsNote-A-DayTM tips
Plus hundreds of downloadable Cliffs titles
24 hours a dayCliffsTestPrep is there to help
CliffsTestPrep guides are available for a full range of standardized tests.
About the Author
Michael A. Pyle earned a bachelor's degree in English in 1977 and a master's degree in linguistics in 1979. He has been involved in the field of English as a Second Language since he began work on his master's degree in 1977. The original TOEFL test preparation book that he co-authored was created while Mike was teaching at the University of Florida's English Language Institute and Santa Fe Community College in Gainesville, Florida in 1982. He also wrote Cliffs Advanced Practice for TOEFL in 1992. Although Mike no longer actively teaches for any institution, he periodically makes presentations to individual classes at Daytona Beach Community College and Embry Riddle Aeronautical University in Daytona Beach, Florida. He is a member of Teachers of English to Speakers of Other Languages (TESOL) and regularly attends its annual meetings. He has made presentations on teaching techniques related to TOEFL at TESOL annual meetings from time to time.
Free Download Cliffs TestPrep TOEFL CBT

by