Longman English Grammar Practice With Key (Grammar Reference) by L. G. Alexander
Flexible – the material can be used in any order, depending on students' needs. Clearly organised – the Contents list, internal cross-referencing and comprehensive Index helps students select the areas of study required. Easy to use – grammatical information is given in short, manageable amounts, immediately followed by practice exercises. Adaptable – each item is marked with one, two or three asterisks to indicate the relative level of difficulty. Authoritative – for students wishing to investigate as particular point in more depth this book is cross-referenced throughout to the Longman English Grammar. Enjoyable – the context exercise in each section is an entertaining story illustrated with a cartoon; grammar practice needn't always be serious!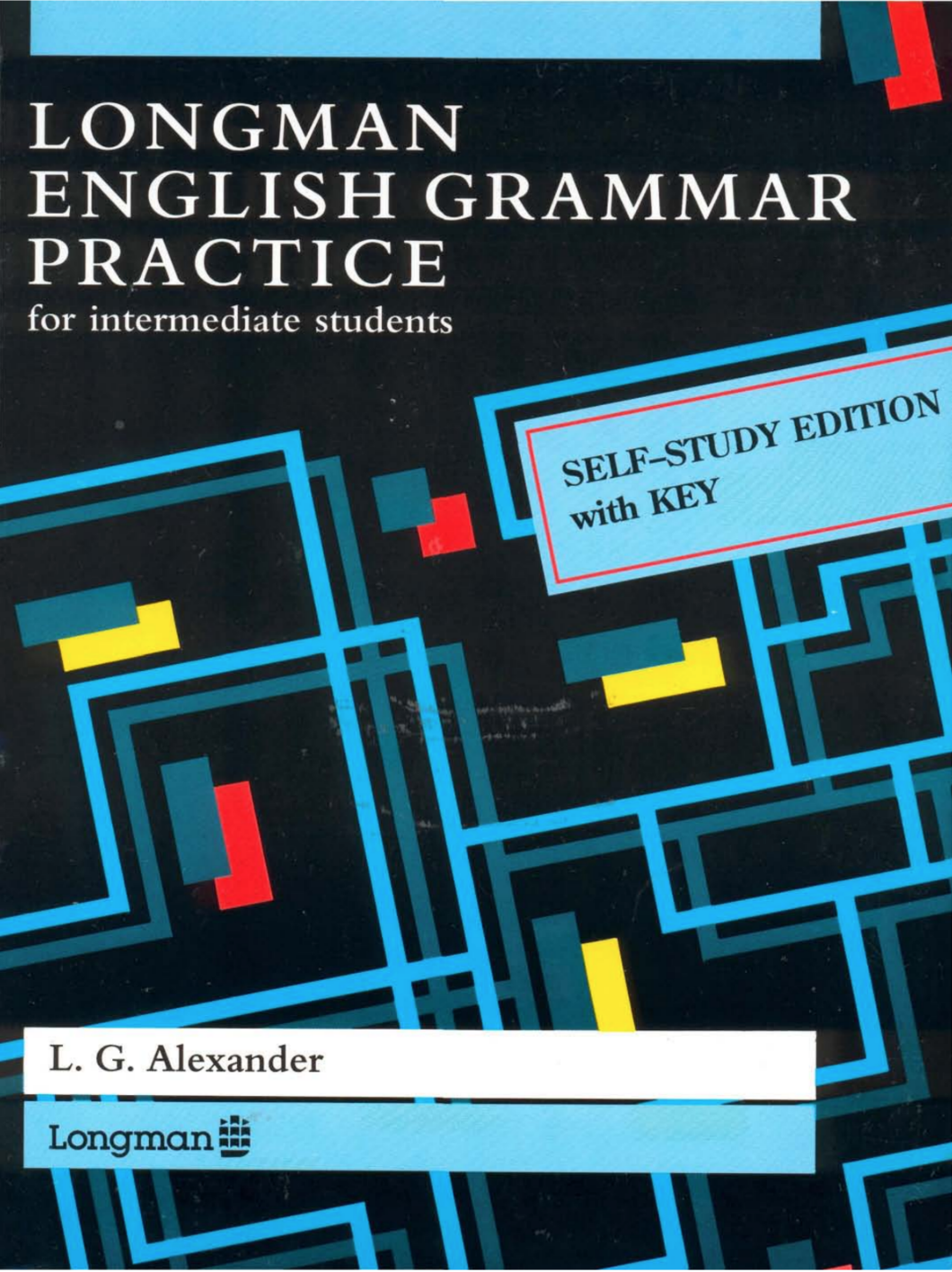 This is a useful grammar kit for intermediate learners. In this book there are many common grammatical structures, listed and clearly presented in each grammatical subject. Included with each grammar topic are illustrative exercises with grammatical structures that have appeared in the lessons of that topic. The topics in this book are in the sections of easy, medium and difficult levels, along with explanations for the exercises at the end of the book.
Why do we learn grammar?
There is no point in learning grammar for the sake of learning grammar. Grammar is the support system of communication and we learn it to communicate better. Grammar explains the why and how of language. We learn it because we just can't do without it.
Who is this book for and what does it cover?
This book deals entirely with English as a foreign language (EFL). It is for intermediate students who are working with a teacher or working on their own. It covers every important area of the English language. If you look at the Contents pages, you will find sixteen major areas which form the basis of English grammar. This book is based on the Longman English Grammar and the grammatical information in it is all drawn from this work. Longman English Grammar Practice has been designed to stand on its own. Students who require further grammatical information can refer to the Longman English Grammar.
How the material is organized
Longman English Grammar Practice is a practice book. It is intended to support (not replace) the
material in language courses and is organized for this purpose:
The material is laid out on facing pages.
Each set of facing pages deals with a major point of grammar.
This major point is divided into small, manageable amounts of information. Clear notes explain the points to be practised, followed by an exercise on just those points.
The last exercise is in context, usually an entertaining story with a cartoon illustration. It sums up all you have learnt in the exercises you have just done and shows you how the language works. It is a 'reward' for the hard work you have just been doing
Now you can Free Download Longman English Grammar Practice With Key (Grammar Reference) by L. G. Alexander below link here: