The TOEFL is one of the most difficult tests you will ever take in your life! Here is a list of ten things that will help you get the highest score possible on the TOEFL iBT, and fulfill your dream of studying at an English-speaking university.
1. Make sure you understand the TOEFL!
The TOEFL (Test of English as a Foreign Language) is an English proficiency test produced by an American company called ETS. It is a test that measures your English reading, listening, speaking, and writing skills, and your ability to succeed at an English-speaking university.
This is the structure of the TOEFL: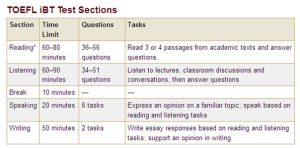 Each section has a score of 30, for a total overall score of 120. You don't pass or fail the TOEFL. Each university requires non-native speakers to get a specific score. Sometimes universities require a specific score for each section of the test, for example 24 out of 30 in the speaking section. Before you begin studying for the TOEFL, it's a good idea to know the score that you need to achieve.
There are A LOT of resources available to help you learn about the test & help you study for the test. Here are some resources available on the ETS TOEFL website:
TOEFL Go Anywhere
TOEFL Tips
Sample TOEFL questions