Toefl iBT Activator Listening – Intermediate with 4CD
Learning and Testing TOEFL iBT is a process of preparation on life skills and student learning in the University environment. TOEFL iBT and owns a ticket to come to the USA, Singapore, Australia, Canada, Finland, … is no longer a stranger, hard with Vietnam students. Not only is an English test, TOEFl iBT, in the subject often revolve around a dialogue between students with professors about homework, between two students about the issue of making more, or a lecture on lectures. Thus, the TOEFL helps students permeability are learning and living the American side will be like …
TOEFL iBT Activator series will help students prepare successful real exam at the same time improving the knowledge of English in the academic field.
The main characteristics of the book:
-Help students correct homework through the step by step training method in the section reading, listening, speaking and writing.
-Provide the lively exercises to familiarize students with the types of questions TOEFL iBT.
-Vocabulary and idioms required in the review.
-Develop the ability of its expression in speaking and writing.
-Provide more information about academic topics and activities in the University.
-Provides the important exam strategies in every section in the book.
-Provide practice CD.
Contents: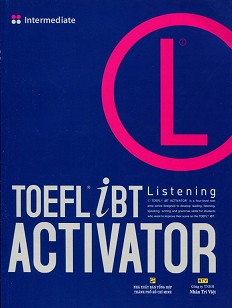 Before you start
Part 1: Basic Comprehension
Chapter 1: Main Idea
Chapter 2: Details
Progress Test 1
Part 2: Connecting Information
Chapter 3: Organization
Chapter 4: Purpose
Progress Test 2
Part 3: Content Linking
Chapter 5: Relationship
Chapter 6: Inference
Progress Test 3
Part 4: Pragmatic understanding
Chapter 7: Attitude
Chapter 8: Function
Progress Test 4
Actual test
Appendix
Answer Key and Audio Scripts
Free Download Toefl iBT Activator Listening – Intermediate with 4CD + Ebook