TOEFL iBT High Score System
"Learn How To Identify & Answer Every Question With A High Score!"
by Timothy Dickeson
This book is based on easy to follow instructions on how to approach the questions on the TOEFL.
For the essay section, for instance, the author introduces readers to the best ways of drafting an introduction and discusses the ideal ways to effectively support your opinion. For the speaking section, the book reduces the stress-level for this dreaded portion of the test by providing a general strategy on how to structure your answers.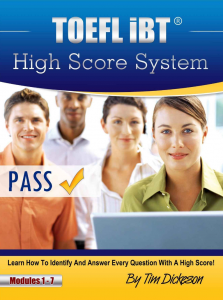 Finally, the guide uses an explanation of how the TOEFL is scored to explain how the various questions should be analyzed and answered.
This is one of the best TOEFL study guides if you are looking for an in-depth strategic approach. However, it should be supplemented with one or more prep books that contain more exercises.
If you're someone who wants a high score on the TOEFL exam, then you're about to discover how to answer Every Question with a High Score!
In fact, the "TOEFL iBT High Score System" gives you Step by Step instructions for answering every question correctly and easily and removes all the doubt and confusion that you currently have about the TOEFL. In this book, you will:
– Learn The Three Parts To A High Scoring Essay Introduction – This will make the start of your essays very powerful!
– Discover The Quick Way To Identify Reasons To Support Your Opinion – There is an easy way to do this, but many people don't know how to do it correctly
– Find Out How To Structure All Your Speaking Responses – Just apply any question to the speaking system to develop a high scoring answer
– Discover How To Easily Identify The Different TOEFL Questions – If you understand how to do this you will improve your ability to produce a high scoring answer
– Find Out What The TOEFL Scoring Criteria Is – If you know this, you will know what emphasis to put in your answers
… and so much more!
So, if you're serious about achieving a high score on the TOEFL that you can be proud of… and you want Step by Step instructions without wasting more time preparing – then you need to get a copy of "TOEFL High Score System" right now! Timothy Dickeson will reveal to you the system that he uses with all his TOEFL students who achieve amazing results!
Some more benefits of using the TOEFL iBT High Score System:
* Save time – by not having to read or research how to write your essays or develop your speaking answers in the correct way
* Save money – because this material is cheaper than most preparation texts
* Save effort and work – because this system will show you exactly how to answer every question
Testimonial:
I was unsure how exactly to develop my speaking and writing answers in order to obtain a total score of 109, which was the score I wanted. This material explained exactly what I needed to put in my answers by following a simple and clear system. When I took the TOEFL, I knew exactly what I needed to do which made me feel much more comfortable and I obtained scores of 26 and 28 respectively for the speaking and writing sections, and this helped me obtain a fantastic score of 114 in total for the TOEFL iBT.
Who this book is for
The TOEFL iBT High Score System is for anyone who is about to take the TOEFL test and wants direct instructions for how to identify and answer even- question with a high score.
This material is perfect for you if:
• You don't know what you should be focusing on in your preparation and you want to know what the evaluators look for
• You are feeling nervous about your speaking because you think it won't be good enough
• You don't know how to structure your essays correctly and you don't know how to achieve a high score
• You have taken the TOEFL before but didn't get the score you need and you don't know how to achieve a higher score
• You have bought other TOEFL preparation books but you found them difficult to understand
• Your TOEFL test is very soon and you need direct information using a step-by-step system
About Author
Timothy Dickeson, founder of TOEFLcoach and IELTScoach, is an English teaching consultant and specialist in the TOEFL (Test Of English as a Foreign Language) and IELTS (International English Language Testing System).
After realising the difficulties and frustration that many foreign people have with passing the TOEFL and IELTS exams, Tim decided to make it his mission to provide a clear and simple format for preparing for these exams (without the confusion and information overload!).
Since then he has taught hundreds of students and is now sharing his proven strategies to increase English fluency and prepare more effectively for the TOEFL and IELTS.
The main reason why Tim has been a preferred teacher and consultant for many students and institutes, is due to his simplified explanations and exercises to make sure the student understands exactly what needs to be done.
But above all, Timothy has a passion and love of teaching and helping people achieve results so they can continue to pursue their dreams.
Download TOEFL iBT High Score System "Learn How To Identify & Answer Every Question With A High Score!" here:
[sociallocker id=414]Download  Mirror  Get it on Amazon[/sociallocker]