Master English: 100 Phrasal verbs for IELTS, TOEFL, CAE, FCE
Learn 100 important Phrasal Verbs for IELTS, TOEFL, FCE, CAE and daily English Conversation to sound Fluent in English.
What Will You Learn?
Use 101 of the most common and important English Phrasal verbs

Use and recognise these Phrasal verbs in – IELTS, CAE, FCE, TOEFL exams

Sound more fluent speaking English

Understand English speakers better

Understand TV shows and movies better in English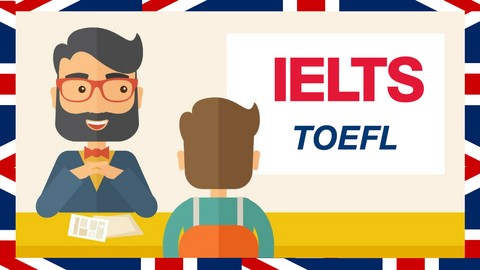 Requirements
You need to be motivated to learn the 'real English' like Native speakers use.
You must have a desire to improve your English
Description
Learning Phrasal verbs is one of the hardest things for people learning English.
Why? – because there are so many Phrasal verbs in English and students get confused about which ones are common and important.
However, Phrasal verbs are essential in English and essential for exams like IELTS, TOEFL, FCE, CAE.
Using Phrasal verbs in English helps you speak more fluent – like a Native English Speaker.
When you take official exams in English like IELTS, TOEFL, FCE, CAE your objective is to demonstrate that you have a level of English as close to that of a native speaker.
★ In this course I teach you 100 of the most common and widely used Phrasal verbs in English. These are Phrasal verbs that you are likely see in official exams and that you can use in the official exams to get a higher score.
You should be using some Phrasal verbs in the speaking part of official exams like IELTS, TOEFL, FCE, CAE. You will also see them in the reading texts and hear them in the listening exam. You can also use them in informal writing exercises.
★★★★★★★★★★★★★
★★WHAT WILL YOU LEARN IN THIS COURSE?★★
In this course you will
Learn to use 100 of the most common English Phrasal verbs.
Learn how these can be used in official exams through studying sample exam answers and dialogues.
The Grammar of Phrasal verbs
You will learn about Transitive and Intransitive and Separable and Inseparable Phrasal verbs.
After this course you will be able to
Use 100 of the most common English Phrasal verbs in English and in official exams to get a higher score
Recognise these Phrasal verbs in reading texts and listening exams which will help you understand English better.
★ ★ OVERVIEW OF COURSE★ ★
This course is has 3.5 hours of videos lessons and test and over 65 lectures.
There are 10 dialogues using the 100 Phrasal verbs from the course.
*Dialogue 1 – 4
-consists of Exam like questions where there is an interview by an examiner.
Dialogues 1-4 are like the speaking questions 1 + 2 in the IELTS speaking exam and similar to questions in other official speaking exams.
*Dialogues 5 – 10
-you will hear natural conversations between native English speaking friends. In each conversation there are approximately 10 phrasal verbs used.
These conversations allow you to see how native speakers use these phrasal verbs in daily English conversation and how you can use them too.
*Phrasal verb lessons
After each dialogue there are video lessons where I teach you the
meaning of the phrasal verbs
what type of Phrasal verb it is (Transitive or Intransitive) (Separable or Inseparable).
How the Phrasal verb was used in the dialogue and what it means in the dialogue
Extra examples of how to use these Phrasal verbs.
*Tests
–After each Dialogue there is a TEST where you will test your knowledge of the Phrasal verbs from the previous lessons.
★★★★★★★★★★★★★
★★ SO WITH THIS COURSE YOU GET…..★★
Introduction video lessons on the Grammar of Phrasal verbs
Dialogues Videos 1-4 : Sample Speaking exam questions between Student and Examiner
Dialogues Videos 5-10 : Sample daily conversations between Native English speaking friends.
20 Video lessons analysing 101 Phrasal verbs used in the dialogues with teacher explanations and extra example sentences.
10 Video TESTS to test your knowledge of the Phrasal verbs learned.
Transcripts of all the Dialogues and downloadable MP3's of the dialogue conversations.
PDF Phrasal Verb Exercise Book – with 100+ exercises and Answer Book
Practise QUIZES (Timed)
If you have any questions or any problems, contact me and I can help you.
See you in the course,
Steve
Who is the target audience?
Students of English who are taking exams such as IELTS, FCE, TOEFL or CAE exams.
Students and professionals who want to improve their spoken English and comprehension.
People learning English who like to watch English TV shows and movies.
Students and professionals who want to live and work in an English Speaking country.
About the Instructor
Steve Fitzpatrick
Professional English Tutor at Udemy ★ IELTS teacher
Steve is a professional English Teacher and freelance Course creator.
Steve graduated with a BA in International Business and Languagesand after a few years working in International Business he left his job to travel in Central and South America where he began teaching English.
He loved teaching and decided to train as an English teacher.
He has worked and lived in many different countries including France, Spain, Belgium, Brazil, Colombia, Ireland.
He is a native English speaker but loves learning Languages. He speaks speaks Fluent French, has a high level of Spanish and Portuguese and is currently "trying to learn" Japanese.
Stephen is passionate about helping students speak "Real English", like Native English Speakers do.
Includes in this course:
4 hours on-demand video

14 Supplemental Resources

2 Practice Tests

Full lifetime access

Access on mobile and TV
Certificate of Completion
Original price of this course: $74.99 Discount: 84% off
Now you can get this course with sale price: $11.99