Nova's Speaking and Writing Strategies for the TOEFL iBT by Bruce Stirling Reviews

1. The TOEFL iBT is an English language proficiency test. TOEFL tests academic English language proficiency. For TOEFL, academic English means first year, college-level English.
2. TOEFL means "test of English as a foreign language." iBT means "internet- based test." Internet-based means the test computers are connected to the internet. Your answers will be sent via the internet to be scored by ETS.
3. The TOEFL iBT is designed and implemented by Educational Testing Services (ETS) Princeton, New Jersey, USA.
4. You cannot pass or fail the TOEFL test. You will get a score out of 120 total points. Your score measures your English language proficiency. The higher your score, the higher your English language proficiency.
5. The TOEFL iBT is divided into four test sections. You cannot change the task order.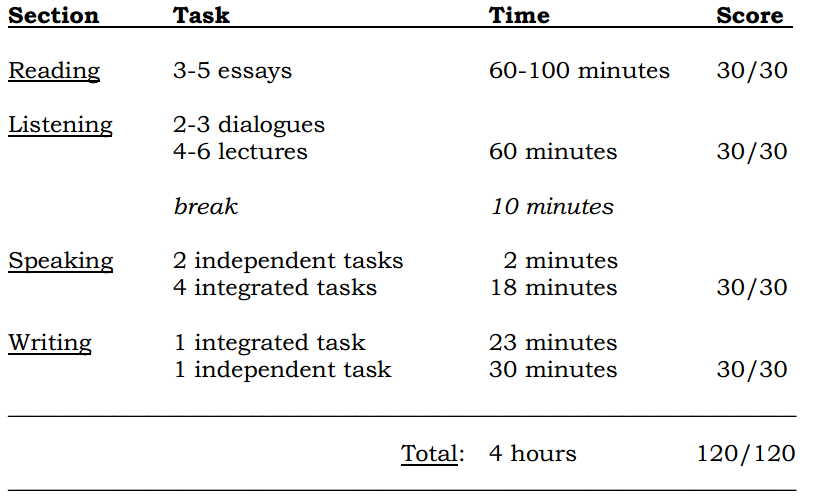 6. Before you take the TOEFL test, find out the TOEFL requirements of the school to which you are applying. Some U.S. colleges and universities do not require a TOEFL score.
7. In some countries, you can take the TOEFL PBT (paper-based test). If you want to go to graduate school in the United States, do not take the PBT. Take the iBT instead. Why? Because graduate and post graduate students at U.S.
universities are expected to teach undergraduate classes. That means you must be able to speak academic English proficiently. That is what the iBT tests. The PBT does not test speaking.
8. In the United States, you can register for the TOEFL iBT online or by phone. Visit www.ets.org for registration information. In the United States, the busiest registration times are at the end of each school semester when TOEFL courses end and TOEFL students are ready to take the test. The TOEFL test is very popular. Register as early as possible.
9. You can take notes during the test. Pencils and paper will be supplied. You cannot use your own pencil or paper. After the test, you must give your notes to the test site manager.
10. Expect to use an old-style Microsoft keyboard when you take the test.
11. Your TOEFL iBT score is good for two years. You cannot renew your TOEFL score. You must retake the test and get a new score. For more TOEFL information, visit www.ets.org.
You Will Also Learn from Speaking and Writing Strategies for the TOEFL iBT :
* Essential rhetorical strategies and opinion development strategies
* Step-by-step basic responses for all speaking and writing tasks
* Step-by-step advanced responses for all speaking and writing tasks
* Step-by-step emergency responses for all speaking and writing tasks
* How to revise your spoken and written responses to maximize scoring
* How to rate spoken and written responses quickly and proficiently
ARGUMENT DEVELOPMENT
Learn basic and advanced argument development strategies to maximize your speaking and writing scores. By doing so, you can increase your TOEFL score.
ARGUMENT MAPPING
Learn test-proven speaking and writing strategies quickly and proficiently using the graphics-based strategy called argument mapping.
SCORING STRATEGIES
Learn how to think like a TOEFL rater so you know exactly what to say and write to maximize scoring.
Speaking and Writing Strategies for the TOEFL iBT
is a great book that breaks down and simplifies the speaking and writing sections of the test.  Many students find these sections most difficult to study for. This short book details exactly what should go into a good essay and speaking answer without wasting too much space on unnecessary explanations and descriptions of the test. It assumes that you know about the test already and concentrates on giving you the strategies you will need to deliver solid answers.
[kkstarratings]By I. Rosas on August 14, 2016
I have tried several TOEFL books before, but I believe this book was the best. It has a different way of teaching TOEFL, different strategies to win the game of TOEFL. I used this book to prepare for my TOEFL test, and I was amazed with the results. This book helps you to deal with the pressure on the day of the test, because it makes the process simple. Moreover, this book does offer a variety of academic vocabulary and simple steps to improve you confidence on the speaking, writing, listening, and reading.
[kkstarratings]By Silvia U

on July 7, 2016
This book has a great, and easy method to prepare you for the TOEFL Test. It will help you to get the grade you want on the test. Plus, it is the only one I have seen that shows you how to grade your own work. This book has well explained strategies that makes it easy to use without the help of a teacher. I totally recommend this book.
[kkstarratings]By Azeem on December 7, 2015
Reading and listening is one thing i.e. how you perceive information, but speaking and writing is a totally different story, which is how you construct and convey information. Reading and listening was not a problem for me as I am used to it a lot. However, I lacked the speaking and writing skills as I don't do that as often. I wondered if there is something available, which could help me master those skills. My quest was over. This is the one.

I have several books for TOEFL preparation. I must say nothing handles speaking and writing strategies as beautifully as this book does. It's not to undermine other books. I did get good information from those. However, this book was right on the target. It teaches you the skills by letting you know what graders are looking for and how they do the evaluation. As a result, you focus on those very essential and critical points, which graders are measuring you against. To me it is one of the best book available on the subject.
[kkstarratings]By CTKoss on November 17, 2012
I have been reviewing for TOEFL exam. I already used the ETS review book, which is also very useful in getting general tips and ideas on specific parts of the test, but I am using this one to develop my speaking and writing skills. The materials presented in this book are very specific and strategical in teaching students on how to coherently and proficiently demonstrate constructive tasks in the TOEFL test. Argument mapping, which was presented in this book, is very helpful for these tasks. This book will teach you two major things that relate specifically to writing and speaking parts of TOEFL: how to present your argument with automaticity, coherence and efficiency; and how to analyze and rate your essay or speech which should demonstrate OPDUL=C, a guide which will assist you to significantly raise your speaking and writing scores as you learn how to think and analyze like an ETS rater. What is "OPDUL=C"? That, you will find out, as you study this highly recommended book for TOEFL (writing and speaking) review.
[kkstarratings]By Rabbit T on October 25, 2011
After reading this book with limit time to practice (only 3 days), my speaking scores has improved from 22 to 26. It's a good book with easy-to-remember and effective strategies. However, I've got the same score in the writing- no more,no less. May be because I was a bit blanked out when I did the exam. Overall, to me, this book stands out among all the toefl prep books, especially for those who want to work on Speaking skill! Ps. to the author: I couldn't thank you more! 🙂