TOEFL iBT Navigator: Listening
Powerful tools to help you navigate Toefl iBT
This book meets the needs of all students preparing for the TOEFL iBT as company employees preparing for post-graduate studies at foreign universities, study-abroad students, high school students in specialized schools. Besides, some people choose this book because I wanted to have access to advanced English (and not for the purpose of examinations). This book will be helpful to you in raising your level of English.
When starting to study this book, you should read the table of contents to easily grasp the structure of the book. You can find detailed explanations of learning methods to help you plan effective learning.
If you study hard until the last chapter of the book, the ability of the English language will be improved compared to now, when you're reading this preamble. Please remember that the core of the study is to understand and repeat, so you should listen carefully learning from two to three times before reading.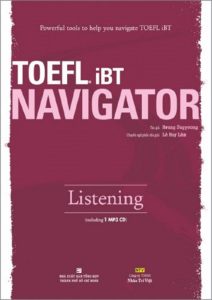 The difference of Navigator Listening:
Issues are sorted by type, for each theme.
Note-taking part emphasized. This is not easily found in other books, although it is an important part of the TOEFL iBT.
Students can gain experience and knowledge from the content, the context of diversity through Culture Navigator, Navigator Lecture.
Providing diverse vocabulary, rich in Vocab Navigator.
Providing a full range of English script in Script Listening Navigator. This is helpful in improving the ability to hear.
CONTENTS
Chapter 01: Question Types
Type 01: Main Topic Questions
Type 02: Detail Questions
Type 03: Function and Attitude Questions
Type 04: Organization Questions
Type 05: Connecting Content Questions
Type 06: Inference Questions
Chapter 02: Conversations
Unit 01: Office Hours
Culture Navigator
Conversation 01: Studen complaining about a grade
Conversation 02: Changing one's major
Conversation 03: Field Trip
Conversation 04: Museum visit
Conversation 05: Roommate
Conversation 06: Make-up Test
Unit 02: Service Encounter
Culture Navigator
Conversation 01: Preparing for class report
Conversation 02: Campus Newsletter
Conversation 03: Dorm Office
Conversation 04: Getting a New ID
Conversation 05: Late Fee
Conversation 06: Taking the semester off
Chapter 03: Lectures
Lecture Navigator
Free Download TOEFL iBT Navigator: Listening Ebook + Audio CD
[sociallocker id=414]Ebook – PDF Audio CD [/sociallocker]