Decorating and designing our house, regardless of whether it's about the interior or exterior, takes time, detailed planning, and it's never a bad idea to consult the experts. The last one is significant because of many reasons as they will have many ideas that we will likely oversee or not think of, most of them offer some amount of free consulting. But, the main one is about using the most out of the space, adding all those things that make one house your, like some ornaments and paintings or even a special color you adore, and still having a lot of open space because, well, who doesn't like open spaces.
One thing that we can often see in houses with large yards is the veranda. Now, as for the style, the veranda can be a roofed, open-air gallery or a type of porch attached to the outside of a building.
But, regardless of the type, the thing that makes it such a unique place is that we can create an intimate space where we can ease the mind and also get a lot of light and air, making it true relaxation heaven. Of course, it can also be used for many other things, depending on the personal preferences of each one of us, and we can add pet houses, flowers, chairs, tables, etc. The only thing when decorating your veranda is that you don't want to add just anything, or, what's even worse, everything, as it can get overcrowded and end up not looking the way you wanted. That is why consulting experts can be of great help, so let's check out what experts had to say about it, their top five tips for decorating a veranda.
1. Bring some nature to it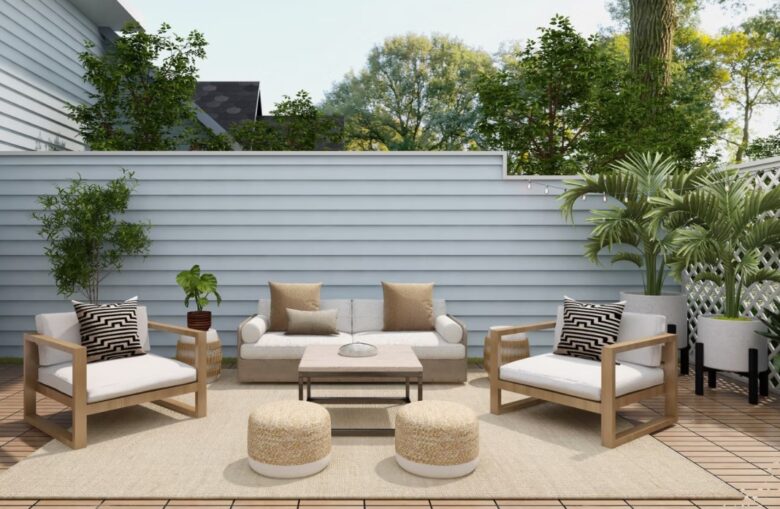 Many of us feel much better and much happier while spending some time in the woods, meadow, or near some water in the fresh air. Spending enough time in nature helps us feel better and much healthier and changes our perception of the world for the better. We cannot bring the sea or river to our veranda, but luckily, we can bring as many plants as we want and make it our own private wood. The great thing is that you can get as many plants as you wish and put them all over the place because there is no such thing as too many plants on the veranda.
Having plants around us not only makes the whole place look much prettier but makes the air much fresher and cleaner, which has a positive impact on our overall health. Make sure to water them regularly and protect them from pests since they can be a real nightmare sometimes, and your plants will last for a long time. One of the best choices is flowering plants because they spread beautiful scents during blooming and make sitting on the veranda even more pleasant, and those who visit you will surely notice and enjoy it as well.
2. Good flooring is where it all starts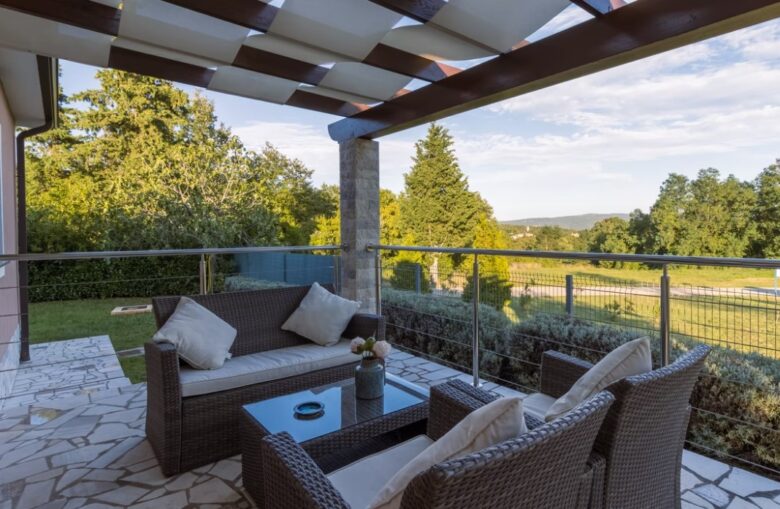 Flooring always plays an important role, and even though you might want to go with a cheaper option or the one that just looks wonderful, what you really want to get is both, as it is the only way to be sure that your veranda will look beautiful but also last for quite some time. Now, if the veranda is not that big, there is a trick design experts use to make it look bigger, and it's about asymmetrical floor leveling. It's all about the perspective, and this way, it will give a veranda much greater depth. Furthermore, depending on the budget, adding pebbles or some artificial glass to flooring will, mixed with the lights at night, also make it look amazing.
3. Add a swing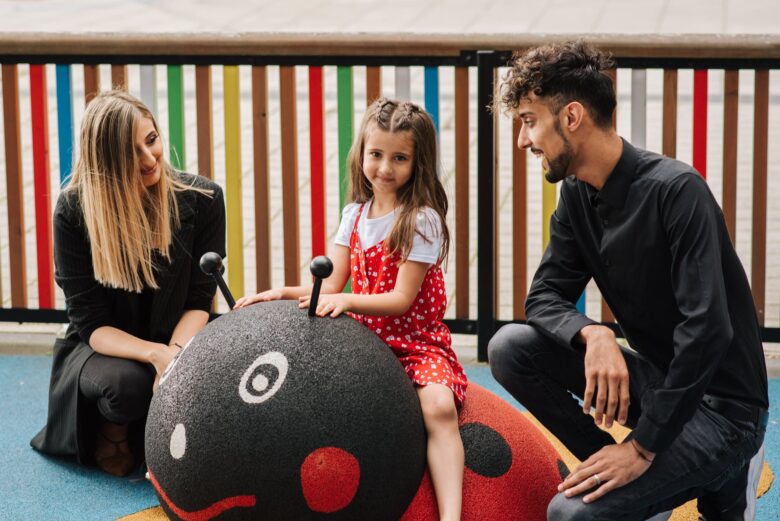 No matter how old someone is, it is almost impossible that they will say that they do not like swings and the feeling they provide. Because of that, its majesty swing is the most popular and the most seen object on every veranda. You can find them in many different sizes and looks, and those made of recycled materials are extremely widespread nowadays. Not only do they look gorgeous, but they are also good for the environment, and because of that, many people decide to buy them instead of those made of plastic or some other material. The great thing with swings is that we can always decorate them even more with pillows and blankets and change their look every time we want. They also make the whole veranda look like a place from a fairytale, so if it is what you want to achieve, the swing is a perfect choice.
4. Choose wooden materials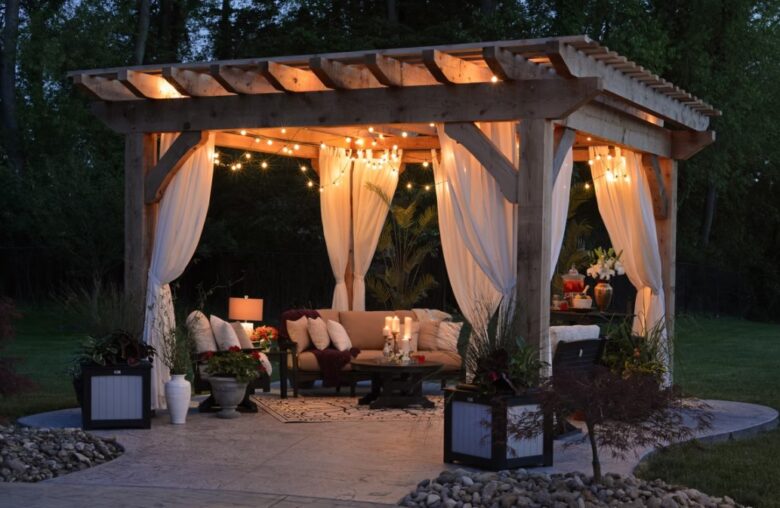 Wood adds that special nature looks to your home, and choosing wood as the material for the roof and columns is a great way to start. Now, as for the chairs and tables, wooden ones of the ideal size so that they do not occupy too much of the veranda will add that extra spark, especially combined with the flowers or if your veranda is close to the garden. It may cost a little more, but it will last longer and give your home a unique look.
5. The power of lights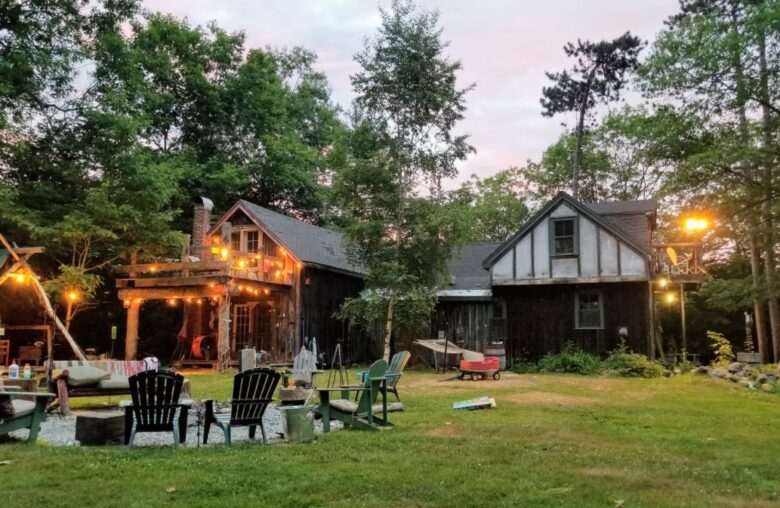 Decorating the veranda to look astonishing in daylight is a pretty challenging task, but it is even harder to make it look like that during the night too. It is not possible to do it without proper lighting, which is again up to you to choose from the extra-large choice of different types of lights. Lights can be found in various shapes and colors, and there is something special for every person, which means that we need to choose whatever makes us happy since we are decorating our veranda. Besides classical light bulbs, we can now find many lights that do not need electric energy for their operating, and it is enough to buy a few batteries, and the veranda will light up. Although many choices can complicate a situation for indecisive people, the great thing is that today you can find almost everything you imagined and decorate the whole place like the one from your dreams.
Conclusion
These tips should come in pretty handy, as now you will have all the tools needed for designing your veranda. Of course, there is an even easier solution and ordering custom-made verandas is what most people do. The only thing here is choosing the right company, so for those who want more insight on this, here you can find all the info you may need.