Geology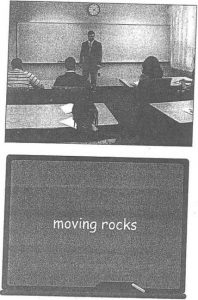 Question 23-28: Now answer the question.
What does the professor mainly discuss?
O His plans for research involving moving rocks
O A difference between two geological forces that cause rocks to move *
O Theories about why desert rocks move
O  Reasons why geologists should study moving rocks
According to the professor, what have the researchers agreed on?
O The rocks cannot move after ice storms.
O The rocks do not move at night
O The rocks never move in circies.
O  The rocks are not moved by people.
The professor mentions an experiment done five to ten years ago on the wind speed necessary to move rocks. What opinion does the professor express aboutthe experiment?
O The researchers reached the correct conclusion despite some miscalculations.
O The researchers should have chosen a different location for their experiment.
O The experiment should have been conducted on wetter ground.
O The experiment was not continued long enough to achieve clear results.
What important point does the professor make about the area where the rocks are found?
O  It has been the site of Earth's highest wind speeds.
O  It is subject to laws that restrict experimentation.
O  It is accessible to heavy machinery.
O  It is not subject to significant changes in temperature.
What is the professor's purpose in telling the students about moving rocks?
O  To teach a lesson about the structure of solid matter
O  To share a recent advance in geology
O  To give an example of how ice can move rocks
O  To show how geologists need to combine information from several fields
Listen to Track 9.
O  The movement pattern of the rocks was misreported by researchers.
O  The rocks are probably being moved by people.
O  The movement pattern of the rocks does not support the wind theory.
O  There must be differences in the rocks' composition.
United States Government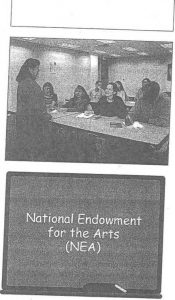 Question 29-34: Now answer the question.                                                                                                             29. What is the discussion mainly about?
O Reasons the United States government should not support the arts
O The history of government support for the arts in the United States
O Strengths and weaknesses of different government-sponsored arts
O Different ways in which governments can help support artists
30. According to the discussion, in what two ways was the Federal Art Project successful? Choose 2 answers.
O It established standards for art schools.
O it provided jobs for many artists.
O It produced many excellent artists.
O   It gave many people greater access to the arts.
31. The class discusses some important events related to government support for the arts in the United States. Put the events in order from earliest to latest.
Write your answer choices in the spaces where they belong. You can either write the letter of your answer choice or you can copy the sentence. The first one is
done for you.
1.     The government provided no official support for the art
Answer Choices
O  Arts councils were established in all 50 states of the country.
O   The federal budget supporting the arts was reduced by half.
O  The Federal Art Project helped reduce unemployment.
O  The National Endowment for the Arts was established.
32. Why does the professor mention the Kennedy Center and Lincoln Center?
O To give examples of institutions that benefit from corporate support
O To illustrate why some artists oppose the building of cultural centers O To show how two centers were named after presidents who supported the
O To name two art centers built by the government during the Depression
Task II: Gap-filling
TRACK 1 TRANSCRIPT
Narrator
Listen to a conversation between a student and a librarian.
Librarian Can I help you?
Student
Yeah, I need to find a [……………………….. ]. It's for my English class. We have to find reviews of
the [……………………….. ]we're reading. But they have to be from when the play was first
[…………………….. ]- so I need to know when that was… and I suppose I should start with
newspaper reviews.
Librarian
[…………………….. ]reviews.
Student
Sorry?
Librarian
You want contemporary reviews. What's the name of the play? Student
It's [……………………….. ] [………………………… ]. It was written In ,[……………………………… ]and we're
supposed to write about Its […… ]on American theater-show why It's been so
important.
Librarian
Well, that certainly explains why your professor wants you to read some of those old reviews.
The [……………………… ]really tore the play to [………………………….. ]when it opened. It was just so
[…………………….. ]—nobody'd ever seen anything like it on the stage.
Student
Really? It was that big a deal?
Librarian
Oh sure. Of course, the critics' […………………………. ]made some people kinda curious about it; they
wanted to see what was causing all the fuss. In fact, we were on [……………………………… ]in New York
– I had to be, oh around [………………………………………… ] or so—and my parents took me to see it. That
would've been about [……………………….. ].
Student
So that was the year it [……………………………………….. ]? Great! But… newspapers from back then aren't
online, so how do I…
Librarian
Well, we have copies of old newspapers in the [………………………………… ], and all the major papers
publish [………………………. ]guides to their articles, reviews, etc. You'll find them in the reference
stacks in back. But I'd start with […………………………… ]. I think the play'd been running for a little
while when I saw it.
Student
Oh, how'd you like it? I mean it's just two characters [……………………………………… ]hanging around and
basically doing nothing.
Librarian
Well, I was impressed: the actors were famous and, besides, it was my first time in a real theater.
But you're right—it was […………………………. ]different from any plays that we'd read in high
school. Of course, in a small town, the assignments are pretty [……………………………. ].
Student
I've only read it, but it doesn't seem like it'd be much fun to watch. The story doesn't progress in
a, in any sort of logical […………………………… ]. It doesn't have any real ending either. It just stops.
[…………………….. ], y'know, I thought it was kinda slow and boring.
Librarian
Well, I guess you might think that, but when I saw it back then it was anything but boring! Some parts were really funny—but I remember crying, too. But I m not sure just reading it… You
know, they've done this play at least once on [……………………………… ]. I'm sure there's a tape of the
play in our video library. You might want to borrow it.
Student
That's a good idea. I'll have a better idea of what I really think of it—before I read those reviews. Librarian
I'm sure you'll be […………………………. ]that anyone ever found it [……………………………. ]—but you'll
see why it's still powerful—dramatically speaking.
Student
Well, there must be something about it or the professor wouldn't have [……………………………. ]it. I'm
sure I'll figure it out.