Imagine a space transformed from an ordinary home into a palace of modernism solely through the use of travertine. From facades, countertops, entire walls, floors, and staircases, the choice of this stone is pure luxury, and its elegance makes it a key element in any transformation or architectural design. You can check out the Bianco Maremma tile to get the feel of the natural flow in the texture of this truly remarkable stone. You can learn more here too about the applications of this travertine for your luxurious home decor.
The delicate colors and patterns of this stone would remain for many generations and through the future change of design styles and trends. We could easily say it is timeless. All we need to do is look at the Coliseum in Rome. The traces of "travertine through the ages" don't stop there. You can see travertine in the classic design of Miss van der Rohe at the German pavilion at the International Exhibition in Barcelona in 1929.
When choosing travertine for your project, consult a professional about color variations, sizes, and applications. You will be amazed by the variety of shapes and colors in which this stone is offered – from mosaics to large walls and countertops. Let's not forget there aren't many natural materials that can create both a rustic and sophisticated look, depending on the creative approach.
Combine Light and Dark Finish for Better Contrast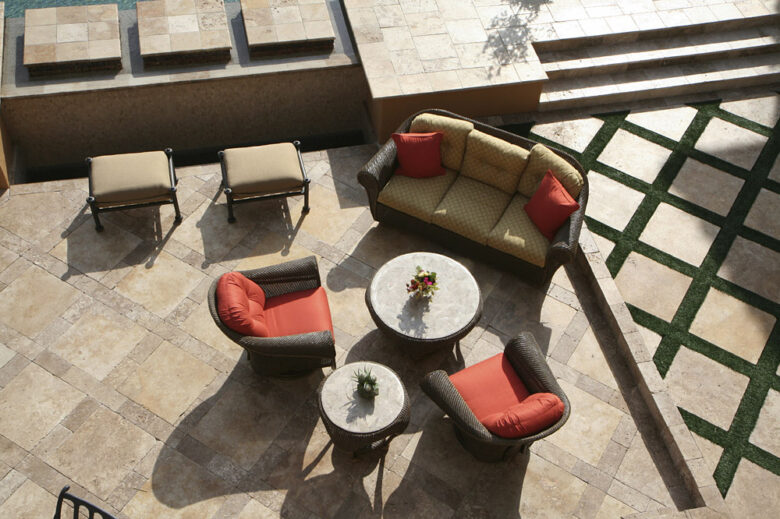 Like marble, slate, limestone, and granite, travertine is one of the main types of natural stone used for wall and floor coverings.
This sedimentary rock looks like porous marble and is highly valued by lovers of natural stones. Valuable for its palette, which varies from light yellow to pale pink, travertine flooring gives the space a noble and sophisticated look.
You can combine light cream travertine tiles with darker wood to add more drama and contrast to your interior. This combination is suitable for kitchen and living room areas. If you want to enhance the brightness of your small space, opt for a lighter shade of travertine.
Subtle Hues are Best for Small Spaces
Color is very important when it comes to interior decoration. A wrong choice can ruin the entire look and feel in minutes! The advantage of using natural stone that has been meticulously cut into tiles, slabs or sheets is that you can easily find travertine tiles with subtle colors that will suit any room design.
The most popular tones are beige, cream, light gray, and brown. They are perfect for creating attractive contrasts without too much drama. The last thing you want in a small area is an extremely bright white tone or deep orange color flooring. You may think this contrast will make the space look bigger, but in reality, it will just tire your eyes out.
If you want to use travertine in a small bathroom, choose a tile with a light color and add some darker tiles around the shower area for a more interesting look. You can also use this trick in the kitchen by using light cream travertine.
1. Travertine for the Kitchen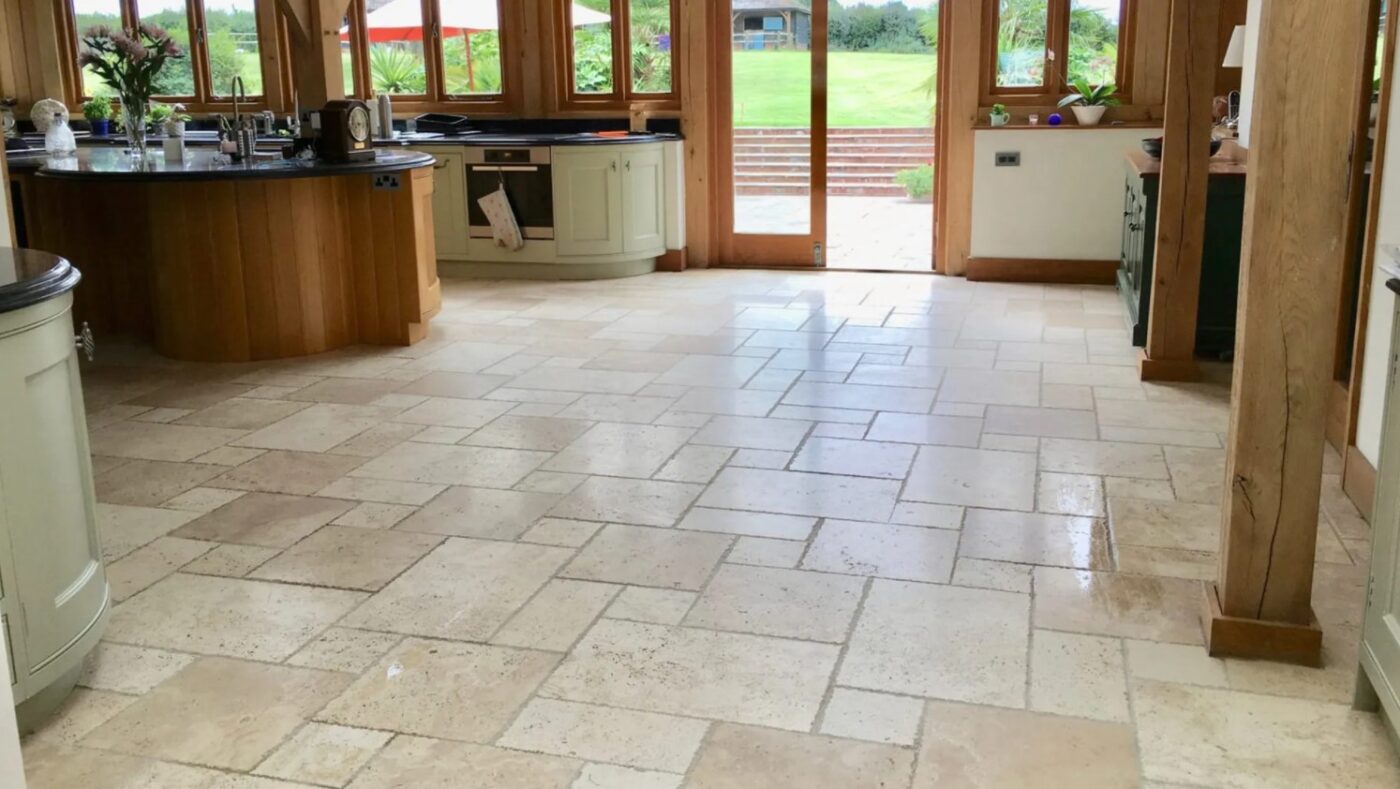 The travertine countertop transforms even the plainest kitchen into an elegant picturesque work of art that you would admire every time. To bring elegance in play between the materials in your home, combine lighter shades of travertine with dark wood shelves and furniture pieces. The contrast between colors and the natural textures would give your kitchen this magical fairytale village kitchen look everyone adores.
2. Bring Nature to Your Bathroom Area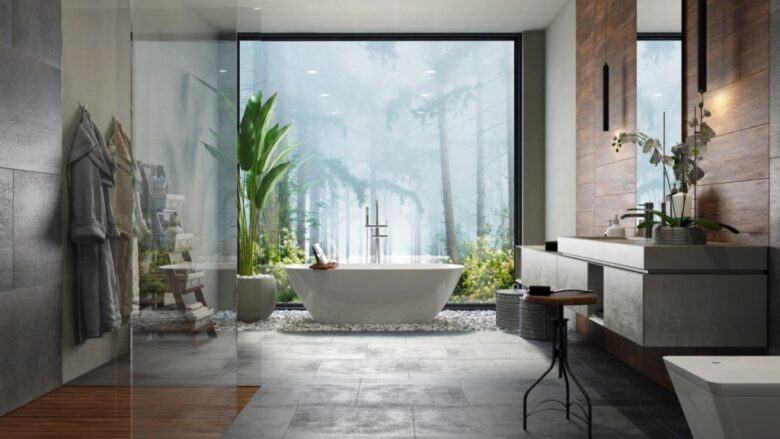 Travertine is suitable for any area in your home. Travertine tiles are perfect for the bathroom area. For creating a tranquil, natural environment, we all desire, when we hear the word "relaxation," this material fits best. Whether taking a long bath or a shower after a hard day at work, travertine would give your bathroom the feeling of eternal peace only nature could.
3. Grand Entrance for Your Home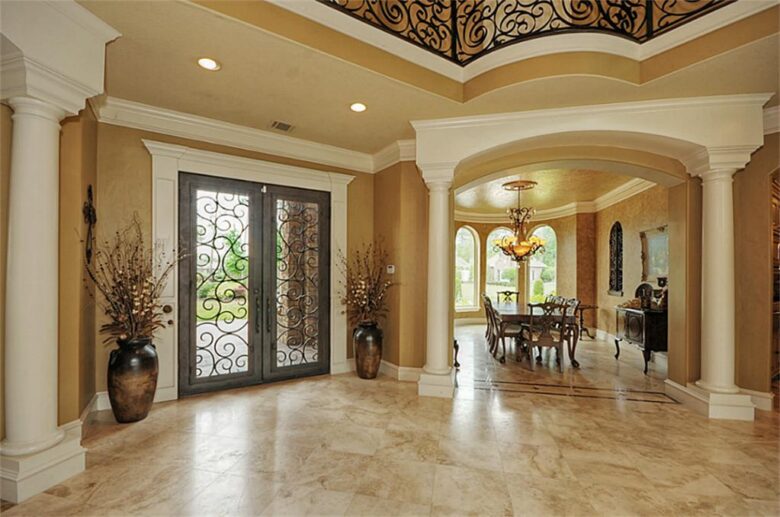 The beautiful polished travertine is adored for its complex texture, natural patterns painted in natural tones in countless variations. Designers love the delicate curves and shape it has sealed. Light cream or silver-gray would be ideal for your cozy, welcoming entrance or hallway. Give your home a sophisticated, aristocratic, yet welcoming hall for everyone to enjoy. Use durable travertine tiles because the entrance is usually a high-traffic area.
4. A Cozy Travertine Fireplace Area
Travertine tiles are suitable for your fireplace area like no other. Precisely because it gives that natural coziness only stone can provide, it is the best finish for the décor of any fireplace area. Whether you choose to surround your fireplace with it or use it for the floor in front of it, travertine would be the perfect finish for the coziest and warmest area in your home.
5. Light Travertine for Your Dining Area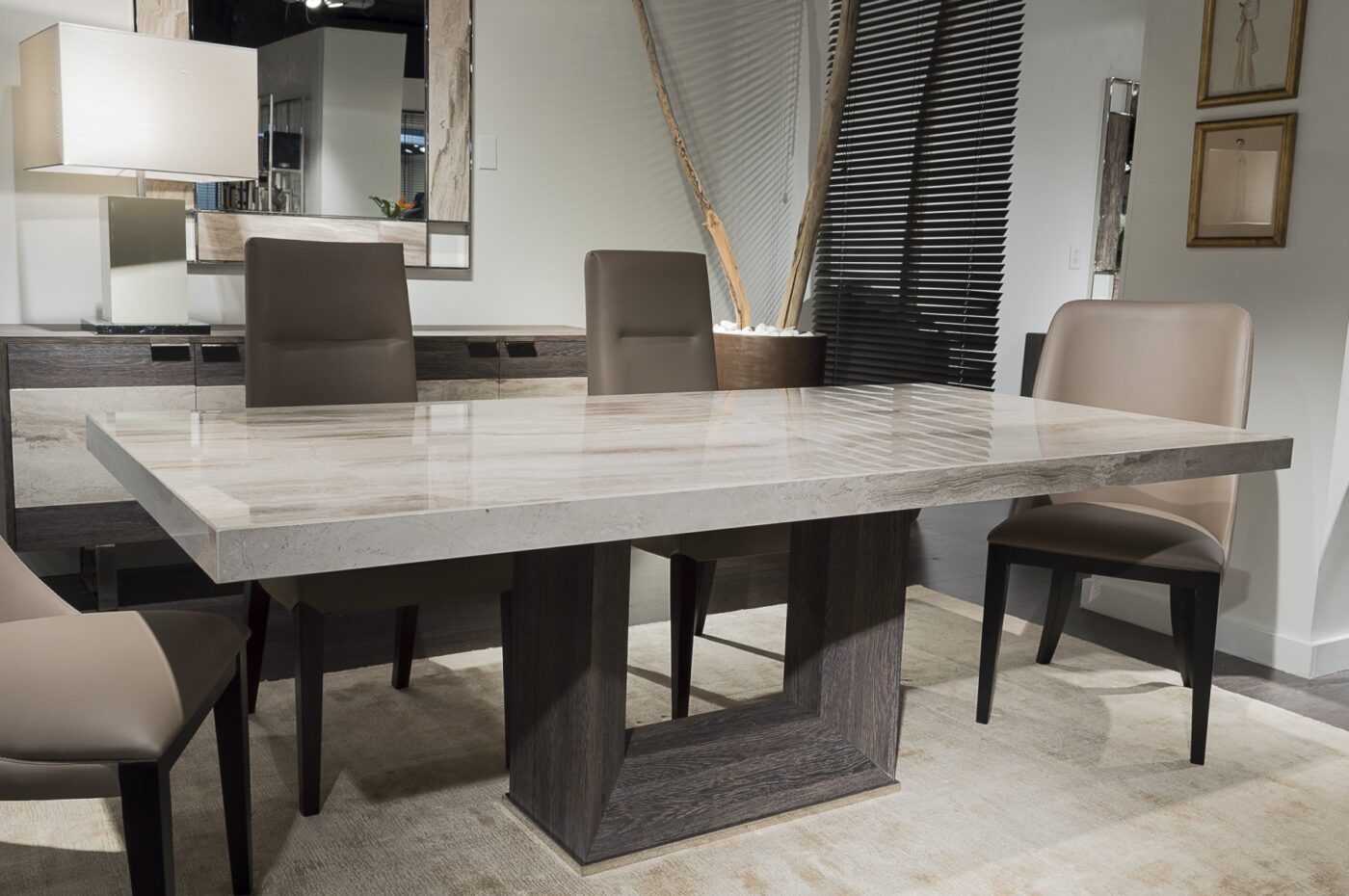 A great dining table or coffee table made of dark mahogany will stand out impressively on a light travertine floor. The time and fashion-resistant travertine would go well together with modern furniture, eclectic artwork, and various materials, including leather, wood, and glass. Whatever you choose, this natural stone will bring timeless beauty to your space. This stone easily adapts to changes in furniture, decoration, and style. It is best for your home, office, or even dining area. It brings a magical atmosphere.
6. Travertine for Your Outdoor Oasis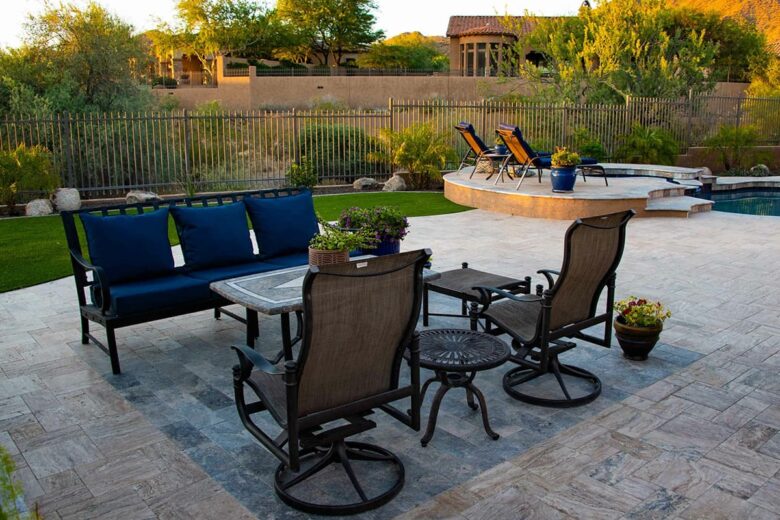 Travertine outdoor patios give elegance and sophistication to your outdoor area. The tiles come in a spectrum of colors and sizes to choose from, and the most important thing to remember for a travertine outdoor patio is to blend it naturally with your indoor area. Make the transition between your indoor and outdoor as seamless as possible. This way, you will make your outdoor oasis a natural extension to your home. The result would be breathtaking.
In Conclusion
Travertine tiles can add luxury and sophistication to any area of your home. You can bring coziness and warmth to your interior or exterior space with this timeless natural stone. If you want to add drama and contrast, you can combine light travertine stone with dark wood for your kitchen area or living room.
You can find a wonderful selection of travertine tiles from manufacturers dedicated to high-quality travertine tile production like Saturnia Travertini. Highlight areas with this aristocratic, beautiful stone for home decor.