Life in the 21st century has brought many advantages, new developments, as well as new occupations. UX/UI is a new shortcut that is being used more and more nowadays. However, not everyone is quite sure what these letters mean. At first, it seems pretty confusing when you read these letters, but actually, they are quite easy & simple to understand, once you get the hang of them. Keep on reading and understand all there is to it.
What is UX design?
UX stands short for "user experience". The name itself is self-explanatory and it determines the interaction way with an application or a website. According to UX design firm, UX designer in a way "creates" user's experience. In a nutshell, a UX designer creates an environment (on any website or mobile application) that is easy to use.
What is UI design?
UI stands for "user interface". Roughly said, it is a graphical appearance of every website or mobile application. A UI designer is responsible for designing a page that is a user in the interaction with. Its main goal is to make the balance between functionality and aesthetics. The site/mobile app needs to have a proper physical appearance, but at the same time, it needs to be clear where something is and what is the main purpose. Beyond all, UI designer has to make every app/site easy to use!
Top 8 tools that every UX/UI designer needs to know about
1. Mockitt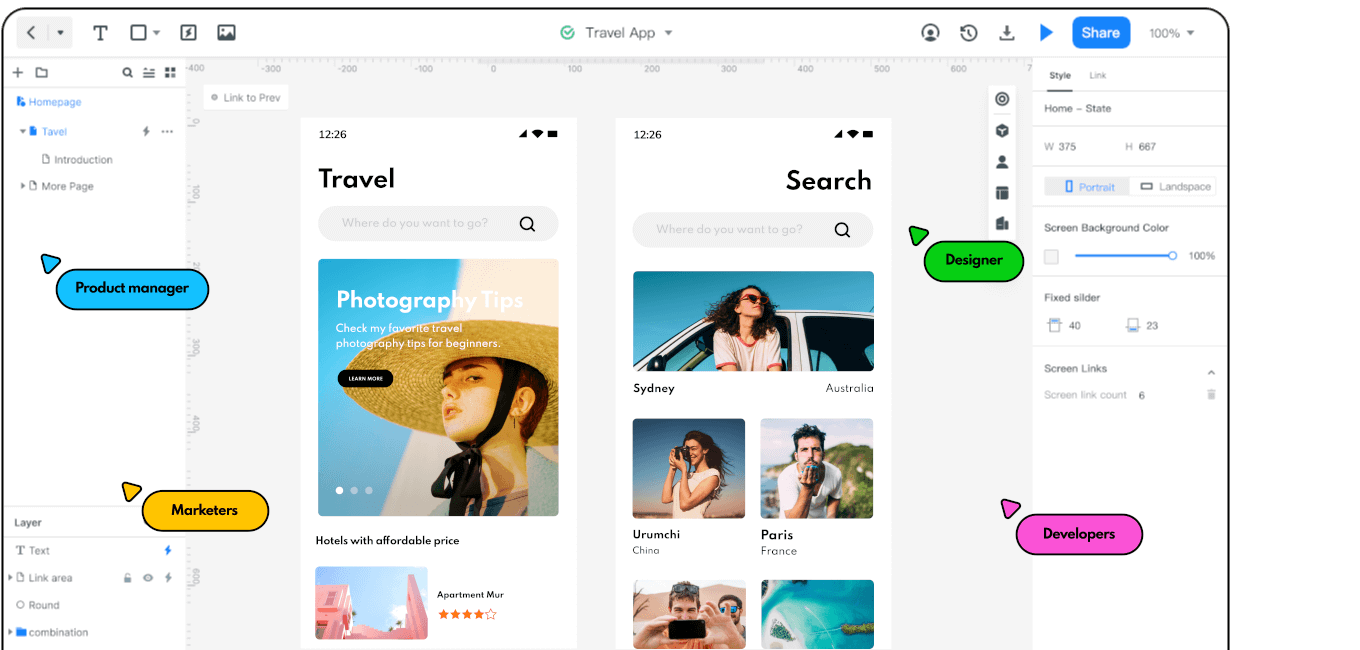 Wondershare Mockitt is an online UI/UX design platform that can be used to create prototypes, vector designs, wireframes, flowcharts, and other interactive diagrams. With Mockitt, you can create app/web/software design as easily as possible, no matter if you are a rookie or an expert.
You will enjoy using it since it has an extensive library of widgets and templates (over 5,000 different kinds). There are also UI components and 500+ different templates. Enjoy the prototyping tool, flowchart maker, as well as their design tool. Perfect for designers, software developers, product managers, marketing & other types of work.
Pricing: You can get Wondershare Mockitt premium version for free and see how you like it before you begin your subscription!
2. Sketch
Developed by the Dutch company Sketch B.V. in 2010, Sketch is widely popular among UX/UI designers. Its super easy-to-use interface makes designing and creating new content even more fun and interesting. Sketch gives you a chance to customize your workflow, using several extensions, which can further easily upgrade your work. However, the bad news is that it only works for macOS, so if you have Android or Windows, then you will have to wait a little bit more for it to be available for them as well.
Pricing: $9 per user/month
3. Maze
If you want to test the platform and get feedback on several prototypes rapidly, then you should consider using Maze. More than 40,000 brands (such as IBM, Uber, Vanquis Bank, etc.) have been using Maze for testing and checking prototypes. Whether you use a mobile app or desktop, you can run all the tests needed with Maze. The good news is that Maze works on Browser (doesn't matter if you use macOS, Windows, or Android). Finally, when the testing is done, you will be able to monitor your design performance, using several kinds of metrics.
Pricing: $25 per user/month (for paid plans); individual projects are free
4. Adobe XD
Developed in 2016 by Adobe Inc., Adobe XD is widely popular among UX/UI designers. It is a vector-based web-design tool. If you work in a team, then Adobe XD is the right option for you, since it allows any team to work collaboratively, crafting different prototypes and making real-life content in the easiest way possible. Augmented and virtual reality are becoming more present around us and Adobe XD allows you to create content for the aforementioned. Besides that, you can also use 3D to transform anything into real-life content. Moreover, it works for both macOS and Windows.
Pricing: Single documents are provided with a free plan, with $9.99/month as a beginning plan price.
5. Figma
Developed and launched in 2015, Figma is a cloud-based tool for web design, which enables cooperation between designers in real-time. It became super popular since it gave designers a chance to work and create together, editing and updating their work simultaneously. Figma is used for designing and building prototypes. You can subscribe to it, but you can also use it for free (up to 3 projects), but the free version will not allow you to use a full Figma's potential. It is available for macOS, Windows, and Browser as well.
Pricing: free plan for up to three projects; paid plans $12 per user/month
6. Balsamiq
Developed in 2008 by Peldi Guilizzoni, Balsamiq is a low-fidelity wireframing program, widely accessible to agencies, developers, business analysts, product managers, business owners, and anyone who is into UX/UI design. Its simple, cartoonist-like style is what separates Balsamiq from the rest of web design tools, along with the possibility of creating a full-fledged mock-up. No matter how many skills you have in this field, Balsamiq is accessible to everyone. It works for macOS and Windows.
Pricing: $9/month
7. Marvel
Marvel is another tool for rapid prototyping and testing. Besides prototyping and testing, Marvel allows you to wireframe easily, along with its intuitive design. It goes from low to high-fidelity, depending on your needs. Marvel has another important and interesting feature – Handoff. Developers are provided with all of the HTML codes as well as CSS styles when they use this tool, making it easier for them to get started. Even though it has many options to work with, prototyping is the most prominent one among all. If you use Windows, this might be a problem, since Marvel only works for macOS, Android apps, and Browser.
Pricing: Free plan for single project/user; Pro plans cost $10.6/month.
8. InVision
If you are looking for a tool that can create functional prototypes with different types of animations and dynamic elements, then InVision might be right for you. Developed and Launched in 2011, it gained popularity among UX/UI designers for its easy-to-use style. It is another one that allows teams to share their ideas, using a digital whiteboard. Designers can use already made templates for their content, or they can start from scratch! Like any other, it has many features, but the most prominent one is prototyping. Besides, it works for Windows and macOS.
Pricing: Free for up to 3 documents; paid plans cost $7.95 per user/month