Very Easy TOEIC :

Beginning TOEIC Test-taking Skills

by

Very Easy TOEIC Second Edition is designed for beginning-level students of English as an introduction to the TOEIC. Each of the twelve units deals with one of the main grammatical points seen in the TOEIC. Each unit provides grammatical and listening exercises based on the specific points dealt within that unit. There is also a mini-test at the end of each unit, which reinforces these grammar points and allows the focused practice of each TOEIC question type. A full practice test is also provided.
Very Easy TOEIC Second Edition is extremely accessible to lower level students and provides an excellent foundation for the new TOEIC test format.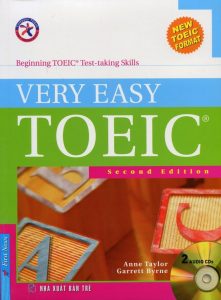 For more advanced level TOEIC preparation, please review the following titles: Starter TOEIC Third Edition; Developing Skills for the TOEIC Test; TOEIC Analyst Second Edition; and Target TOEIC Second Edition.
Key Features
(1) General information about the TOEIC
(2) Clear and precise grammar explanations
(3) Thematic units with integrated grammar practice
(4) An exercise section that distinguishes between commonly confused words
(5) Focused practice of TOEIC question types
(6) A mini practice test in each unit
(7) One full-length practice test
(8) Answer key and tapescripts for all mini-tests and the full-length test
Review Very Easy TOEIC Book
Very Easy TOEIC is a book suitable for beginners who need to practice TOEIC test, including 13 lessons, 1 practice test with answers and tape reading. Each lesson includes clear vocabulary, grammar, grammar exercises, and mini-tests.

Part Vocabulary: You will learn through listening and reading. Through simple listening activities, you will remember and use words faster. The reading section makes it easy for learners to distinguish easily confused words

Grammar section: the book gives learners the most basic content of English grammar to use in T EIC in an easy to understand and detailed way.

Small test: This section gives you an exam with questions shaped like the real Toeic test. With this test, you can not only review the grammar you have just learned but also get familiar with the types of exam papers that will be included in the TOEIC test.

Sample test: helps learners master their knowledge and become familiar with TOEIC papers of standard length but at a low level. There are 100 listening verses and 100 reading verses.

The tape reading, answers: help learners to check their answers.

In particular, this book will help you achieve from 0 to 300-400 TOEIC points in 2-3 months.
Link Download:
Here is a link to download high-speed google drive of "Very easy TOEIC" that teacher has prepared for everyone, quick download for good review!
Link PDF: Download PDF Book
Link Audio: Download Audio
These toeic learning materials have been compiled from many sources and uploaded to share links for everyone. You can buy and support the book Very easy TOEIC original! Get it on Amzon