Choosing between TOEFL and IELTS
TOEFL and IELTS have become the most widely accepted tests to measure English proficiency of non-native speakers around the world. In spite of having the same purpose, the two tests are different in many aspects. The infographic below represents a comparison between the tests which might help you choose the most suitable one.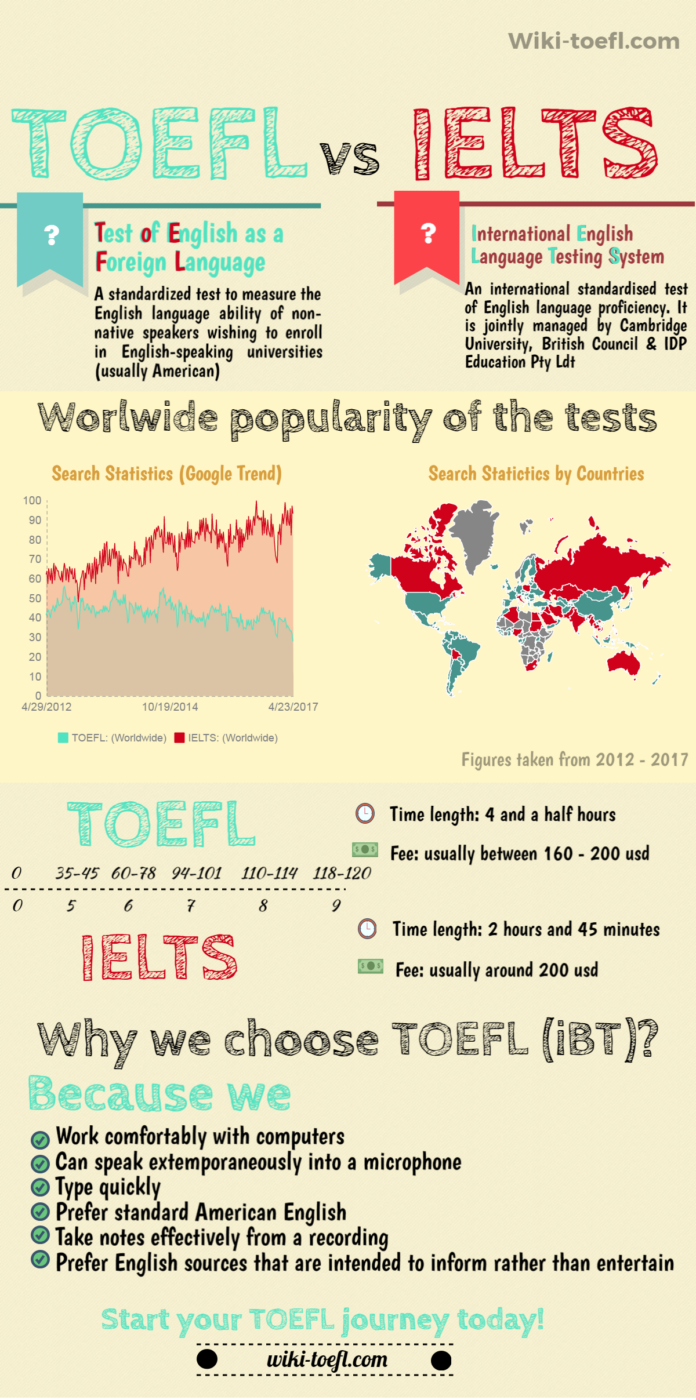 Are you a perfect candidate of TOEFL iBT?
You feel comfortable doing the test on computer
The basic difference between IELTS and TOEFL iBT is that the latter is completely computer-based. If you are familiar with using computer, including using the mouse and typing, you have the advantage. Moreover, because TOEFL takes lengthy time (more than 4 hours), your eyes' vision is also worth considering. Examination stress may put a strain on your eyes and you might feel exhausted after looking at the screen for a while.
You prefer speaking to yourself than speaking to an examiner
If you are a shy person, or simply afraid of being monitored while doing test, you must love the TOEFL iBT speaking test! The reason is that you only have to talk to a computer via a microphone. No eyes contact or body language and no one will see you trembling!
Your typing is far better than your hand-writing
Again, computer-based test can alleviate the scare of illegible hand-writing when under pressure. If you can type fast, you are better with TOEFL iBT.
You are a fan of American English
TOEFL iBT mostly reflects the standard American English. All fans of Hollywood movies and US idiomatic language are welcomed here!
You are good at taking note while listening to a lecture
For those who are studying at international schools where they are taught in English will have the advantage here. TOEFL iBT integrated speaking requires excellent note-taking skill. So if you are to take the TOEFL but are dummies in note-taking, it's high time you took a note-taking training class!!!
You would rather read, watch or listen to informative English sources than entertaining English sources
Most of the time, the TOEFL test takes passages or lectures of an academic fields (for example: literature, history, geography, astrology, demography, biology .etc). So, if you feel comfortable and interested in these topics, you will have more motivations to take the TOEFL
You feel that Wiki-toefl.com is a great website for you
If you are interested in most of our posts and looking forward to our new contents, you're probably fit well with the TOEFL iBT! 🙂
Choosing which test to take is of extreme importance. Once you begin the preparation, it is hard to turn back with the same motivations and enthusiasm. Therefore, make a wise choice!